When my family emigrated to London from Ireland, football was one of the things that enabled us to assimilate. Can it become that positive force again?
When I shot the video of Souleymane S being abused by Chelsea supporters on the Paris metro I knew it had to be seen by a wider audience. It was horrible to witness a fellow human being treated that way and I knew that anyone who saw it would be shocked. Seeing the video go viral also stirred up a lot of emotion in me. It made me think about my ambivalent relationship to the sport that's supposed to be the great leveller – football.
My first and only memories of attending a game are of watching Fulham in the mid-1980s with my dad and brother. I was disappointed. I remember hearing my dad talking about the skill it took to curve a ball and waiting in anticipation for something amazing to happen at corner kicks. I didn't get it. I strained to look through the crowds of people to catch a glimpse of the players gently jogging up and down the pitch, occasionally breaking into a sprint before skidding down onto the wet grass. Every time a player miskicked, the crowd burst into a chorus of abuse. My muted response to the whole experience resulted in me never being taken again.
That contrasts strongly with my dad's first memories of football in the early 1960s. He was in his late teens and early 20s and would go with his brother, John, to see Fulham, their local club. They were Irish immigrants from Doon, County Kerry and lived with their parents in a one-bedroom flat in West Kensington, which was a poor part of town back then. For my dad and John, football was a way to connect with their surroundings. They had abandoned what was left of their livelihood in Ireland after 14 cows they owned died of a mysterious illness, and set sail as a family for England. It was a difficult time to be Irish. Football offered a chance to develop a relationship with a culture that was otherwise mostly hostile.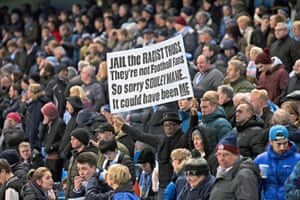 It's a period of his life he speaks about fondly and he is still a loyal Fulham fan today, albeit from the comfort of his sofa and a Sky Sports subscription. For my dad, football was a way to find his place in his adopted society. The power it held for him as an immigrant – the way it opened a door for him and enabled him to belong – is something to celebrate.
The video I shot in the Paris metro shows football in a very different light, however. It is about blatant racism and how a group of yobs thinks it can get away with it. Other videos that have subsequently come to light – at King's Cross St Pancras and on a London-to-Manchester train show that it is not just a handful of drunk Englishmen abroad. It's an attitude that's more entrenched. When I think of the positive part football played in my dad's life – and has played for countless other immigrants to these shores – it makes me miserable.
Looking back at that evening at the Richelieu Drouot metro station, I feel disappointed that people did not show more solidarity with Souleymane S, myself included. Shortly after the metro departed, he blended back into the crowd and I lost track of him after I boarded the next train.
If there's anything positive to come out of the experience, perhaps it's a renewed awareness that racism has no part to play in football. My dad's story shows that the sport has the potential to be a force for inclusiveness. Let's hope it can be again. The game should be something that binds us together, not splits us apart.